Today was a fun skate.  *SPOILERS* 
Sure we lost 2 games to 1, but it wasn't riddled with angst and frustration.  That's what we in the biz call successful exercise!  Goals were scored, shots were saved, pucks were flipped and we almost got to see Chip become unhinged!  I'm joking, but it was pretty funny that he had a three peat of mishaps right in front of our bench and the ensuing chirps that followed were awesome!  Chip rallied though and had himself a very productive day.
I freaking love this tune.  You might already know, but it was written by Shel Silverstein (known for his children's poem books, A Light In The Attic and Where The Sidewalk Ends…among others).  Shel also wrote a great song sung by Dr. Hook & The Medicine Show called Sylvia's Mother.  Back in the day, my brother Patrick along with Dave, Kenny and myself used to play it (Sylvia's Mother that is).  Dr. Hook also has a great number (that we played as well) called The Cover of the Rolling Stone, for those interested.  Interestingly enough, A Boy Named Sue, recorded at San Quentin prison was Cash's biggest hit (at #2) and was only held out of the top spot because of the Rolling Stones.  The Stones tune was Honky Tonk Women and just so happens to be a song our "hockey band" plays.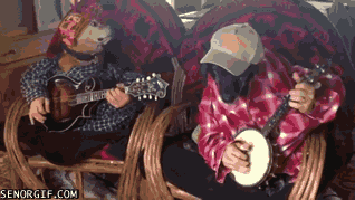 Picture this…the Fake Russian on lead vocals, playing rhythm guitar with Davey filling in on the second guitar.  I'm playing mandolin and Mr. A. Hawk brings it all together with his classically trained, body pounding bass notes.  If only we could get Jack a keyboard and really crank it up a notch!  That's two classically trained musicians to cancel out the three hacks!  Brilliant!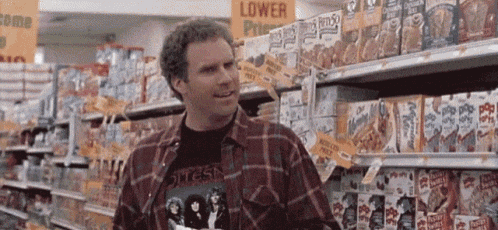 –The Line-Ups–
Dark: Davey, Shakey, Weevey, Tinman, the Maestro, Jack, Nojus, Heir to the Throne, 7 Minute Abs, Jonny, Old Man River, M. Looby
White: Brown Brian, Chip, Link, Kenny, Dan, Angry Dave, Garvin, Grabby, Commish, Firefighter, Older guy with glasses (could use improvement)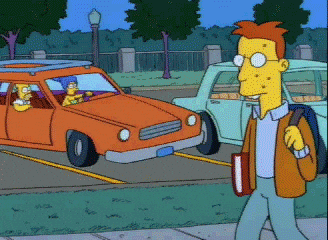 Okay, we get it…relax Homer.
Goalie(s): Sam, B. Looby
Game 1: 5-4 Dark
Shakey. Heir. Heir. Heir Weevey.
Even though Dark took this match up, it could have gone either way.  Like a blowout either way.  There were many missed opportunities left and right for both squads…I'm just happy we came away with the W.
Game 2: 5-2 White
This was a good tone setter for White.  Coming off a tough 5-4 loss in game 1 and the closeted skeletons taunting them of their previous failings, White needed this win.  It was a total team effort, spearheaded by Brown Brian's offensive prowess and his complete disregard to slow the fuck down!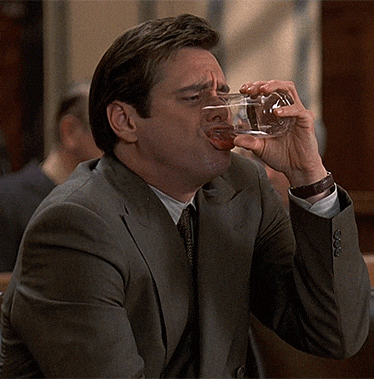 Game 3: 5-3 White
The tie breaker.
It was a hard fought battle that was knotted up at 3 for a spell.  White's coach had last change and executed it perfectly, as their team found a favorable match up and exploited it.  3-3 quickly became 5-3 as Dark wilted like some bargain basement roses on Valentine's Day.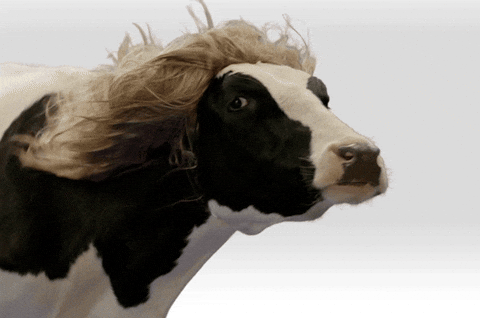 Oh, hey Maestro!
Although you had a pretty wretched day, you did spin Davey at the end of the skate!
–Notable Moments–
The Lithuanian Lightning Bolt has a great retro style that I hope comes back.  His jacket on Tuesday night (club practice) was splendifferous!
After self diagnosing myself, I figure I have golfer's elbow in each appendage.  I wonder if it's because I started wearing lacrosse elbow pads, but that can't be it…right?
If our jobs allow it, should Dark all dye their hair to match Nicholi?
Dan had a beauty one timer goal out front.
Does B. Looby hate Lithuanians?  Or, does Nojus hate Americans?  Stay tuned!
I think Nojus hates me.  He somehow never sees me when I'm on the ice…like he has horse blinders on.  Doesn't he know that directly correlates to ice time in club?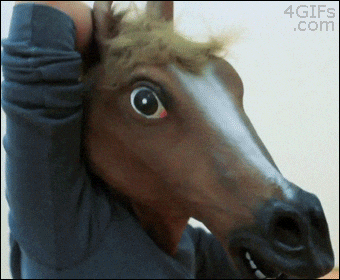 Hi!  Still a horse!
It's hard to chronicle when it's so fun yukking it up on the bench.
Grabass had a great day.  Solid D and offensive rushes help lead the way to a White victory.  Most impressive was his 27:47 tom (Tongue Out of Mouth).  I'm just gonna assume he's a huge Michael Jordan fan…
Jack was back after kicking the shit outta the flu.  He had some nice dangles and assists on goals.
Picture yourself in the alps…"The sky was alive with the sound of vulcanized rubber…"  Why don't more people flip?  If you watch the current NHL, it's usage has ramped up.  I'd ask a statistician to comment, but I think I burned those bridges with my anti-metric speech.   Damn.
Someone stripped me of the puck and went in and scored.  I seemed to of blacked out, so I have no details.
Kenny hit his stride for the White team…showing he accepts communism and 15 minute lunch breaks.
Where the hell has Vlad been?  We need the real and fake Russians back.
Shakey dropped the spectacled older fella on White.  At first I didn't think it was on porpoise,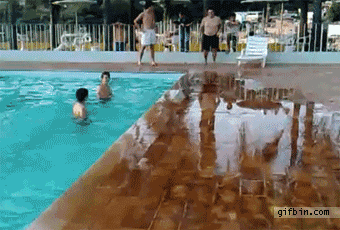 but he did seem to stand over him menacingly.   I think he might of even flexed his left tricep.  No one likes bullies Shakey…
–Three Stars of the Day–
3) B. Looby: When Brendan wasn't trying to cause bad international relations with Lithuania, he played a solid net minder.  Maybe leave the diplomacy to those of us with quiet, nurturing personas.  Your not innocent in this either Nojus!
I said solid net play, but Loobs was phenomenal today.  I loved his sprawling save when he came 15ft out of the crease…and then there was the right to left push, robbing the Heir on the doorstep.  There were many more, but it's getting late and I wanna go to bed soon.
2) Heir to the Throne: Nicholi was the extra meat in a Shakey and Weevey sandwich (mmm).  Shake n' Bake scored first in game 1, followed by a hattie from the Heir.  I, of course, provided the last slice along with many delicious fixin's.  Now that's some carbs you don't feel guilty about!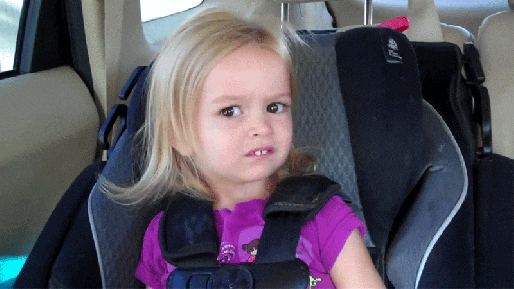 For real, Nicholi was a Tasmanian devil out there.  I had him at 4-5 goals and maximum effort throughout.
1) Brown (Winthorpe) Brian:  What's to say?  If you didn't see his comment on Monday…
He couldn't stands it no more!  Brian was all over the ice.
BB is a very hard defensive assignment.  Even when you land your poke check, there's a high percentage chance he's just gonna kick it back to himself, or corral the puck with his stick like that was his plan all along.  He must've had anywhere from 7-10 goals today…he did not want to lose again.
He was last seen wearing Chip like a backpack and skating off into the sunset.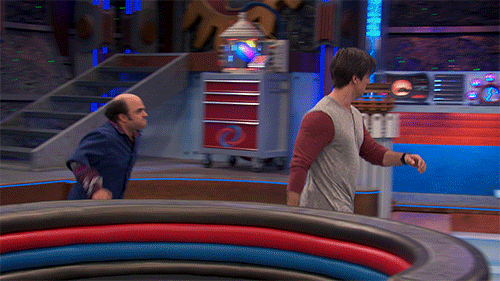 The Bruins have two games left.  We play tomorrow night @ 8:00pm squaring off against Minnesota.  Just before the deadline, the B's sent Ryan Donato over to Brandon and Brenda Walsh's former digs and got Charlie Coyle (Weymouth, MA) in return.  Without looking it up, Coyle has been ehhh.  I think he has two goals with the B's, but he brings a style of hockey that can be crucial in the playoffs.  Again, without looking it up, I know Donato has been close to if not over, a ppg since the trade.  I liked Donato, but wasn't close to heartbroken when he got traded.
Our final game is Saturday @ 1:00pm.  We got the best team in hockey, but both clubs should be dialed back.  The Bruins already clinched home ice against Toronto and Tampa has been historically good…locking up the President's Trophy earlier in the year.
It's like the wise Maestro says "game time? spin somebody."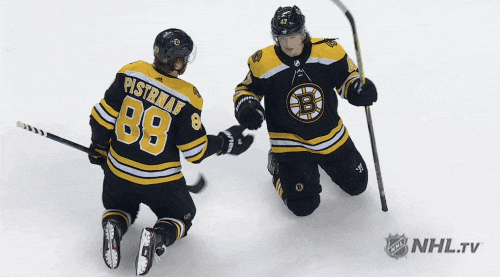 This Bruins team is crazy fun to watch.  I want Kuraly back!  I need his hustle and constant cut back moves along the boards.
Let's Go!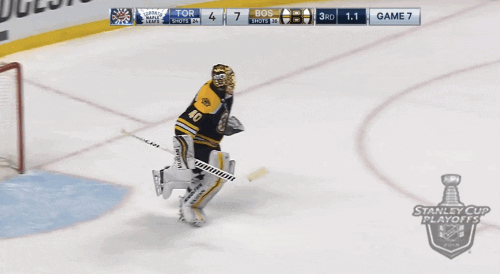 –Weevey–