–The Line-Ups–
Dark: Davey, Weevey, Tinman, the Maestro, Jack, Jonny, Jimmy C, M. Looby, Sean- O, Nojus, Old Man River, Franny, Ryan
White: Brown Brian, Chip, Link, Fake Russian, Vlad, Commish, Yasu, Grabby, RayFro, Dan, Shamrock guy, I think I'm missing one more for White
Goalie(s): B. Looby, Heir to the Throne
Game 1: 5-2 White
This game might've actually ended 5-1, I'm not sure.  Either way we got demolished.  Brown Brian and Yasu were the samurai sword to our listless watermelon defense.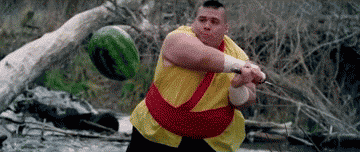 They hooked up early and often, putting us on our heels and never stepping off the gas.  It's hard to put this loss on Nicholi as our lackluster D failed to get back, giving up a multitude of odd man rushes.  I'm just glad he didn't pull a Paboner and skate off the ice.  Speaking of Paboner, I hear he's in Florida getting council from Luongo on how to properly inflate tires.
There seemed to be a direct correlation between our ineptitude and my octaves rising.  I'll have to look into this some more…
Game 2: 5-2 Dark
I like to think my loud, screeching coaching techniques were instrumental to Dark's turnaround.  Backs seemed to straighten and skates appeared lighter as my verbal influence cascaded upon the squad.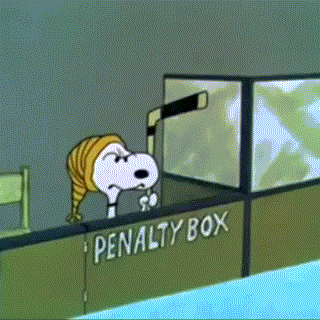 I got the first goal of this tilt, beating Nicholi forehand backhand.  Soon after, Sean-O, Jimmy C and Franny all potted goals to bring it to 4-2.
Someone scored the final goal, tying the series and sending it into game 3.  Oh yeah, that was me and it was a beauty of a goal!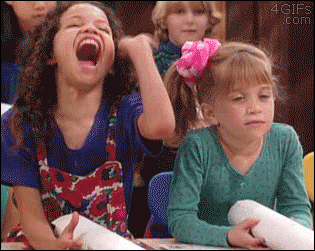 Game 3: 2-1 Dark
Dark was up in this one when the Loobmeister had to exit the arena.
My favorite Eminem song.
–Notable Moments–
Jonny had himself an excellent skate.
The Maestro was well, the Maestro…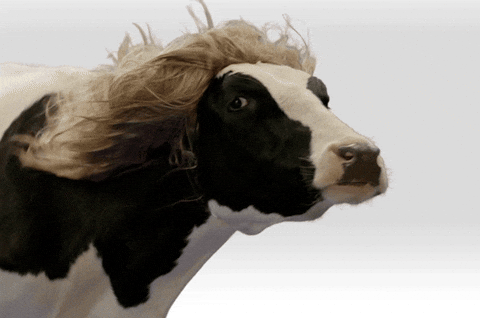 The Fake Russian had a Weeveyesque day.  He took out Nojus thrice and sent M. Looby's stick soaring with a healthy stick check.  I always like to say "I'm a product of my environment!"…
Yasu had his dangle game on point today.
Did Bob Kraft really just get a rub and tug and people are freaking out about it?  Bart Scott (noted idiot) said the Patriots should surrender their entire draft board.  I think it was Rob Parker (worse than B. Scott) that said the owners should force him to sell the team.  It didn't stop there either.  There were many others that more or less painted him as the ringleader of a human trafficking movement.  I guess you don't need that little thing called evidence in this country anymore.  It's guilt before innocence with whopping dollop of public shame and torment.  What a time to be alive!  Obviously if he was involved in any kind of trafficking, that's real bad…but I'll wait until that's a known fact.  Sorry rant over.
In the side locker room afterwards…
Me: "Geez, Link and Chip were all over me today."  "What's worse than water skiing?"  (that's were they hook you and don't release…going for a ride)
Sean-O: "Probably water boarding."
I think he meant wake boarding, but it gave me good chuckle.  Honestly, they might start incorporating water boarding into their on ice repertoire.
I had maybe my best tipped shot ever.  Davey was at the top of the circle and I set up in front.  We made eye contact and he fired a hard snap shot that I whacked down on my backhand, beating Nicholi five hole.  Nicholi protested that it was a high stick, but after checking the rink footage…the goal stands!
Vlad was an animal.  All over the ice and never slowing down.
I don't think the Shamrock guy liked me too much.
–Three Stars of the Day–
3) Dan: We all have that player that gives you the most trouble.  Dan is that person for me.  I have a hard time getting around or through him.  He always seems to be in the right spot against me…and to that I say…challenge accepted!  It wasn't just me though, Dan played a great shut down D role and even scored on a couple of nice one-timers.
2) Weevey: I don't like putting myself in the three stars too much, but an omission here would be a disservice to all in attendance.
1) B. Looby: Brendan was a brick wall out there.  He stoned his bro Mike, although Mike did have a nice wrap around goal on him in the first game.  Afterwards he turned away chance after chance, stymying our efforts.  Brendan ended the skate with a paltry five goals against!
–Weevey–